Poverty Hurts Appeal
#PovertyHurts - Northamptonshire's Cost of Living Crisis Appeal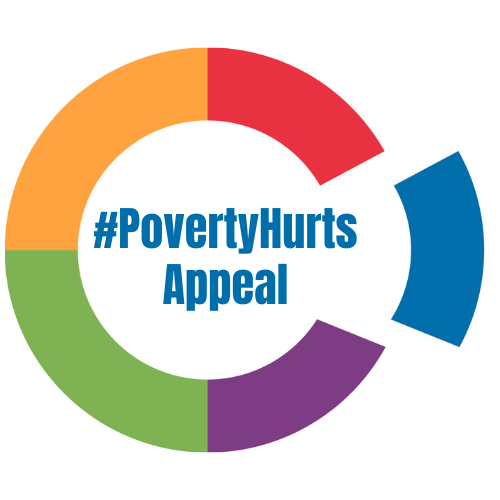 Northamptonshire Community Foundation in partnership with local newspapers has launched its #PovertyHurts appeal to raise urgent funds to help tackle increasing poverty and the impact of the current cost of living crisis for some of our most vulnerable local residents and those already experiencing financial distress. It will ensure that people who have been plunged into poverty can get the support they need.
We are encouraging local residents that can afford to do so to donate all or part of the energy rebate to our #PovertyHurts appeal. If 2500 residents donated the energy rebate we would raise £1 million to support local charities and community groups providing a much needed lifeline and services to people in financial hardship in Northamptonshire. All donations are welcome no matter how small. Every act of generosity is welcome at this time.
Rachel McGrath CEO for Northamptonshire Community Foundation said:
"Nobody should be struggling to cover their basic needs or making a choice between heating and eating. We know through feedback from local community groups and charities that many residents are going through really tough times especially those that have already been struggling with financial hardship. We supported our local communities through our Coronavirus Response and Recovery Fund appeal during the pandemic and we will continue to do what we can through the current cost of living emergency to ensure help is provided to those who need it most."
To help kickstart the appeal, Northamptonshire Community Foundation, will be able to match fund the first £20,000 raised £1 for £1. Once match funding is secured through public donations the foundation will start making urgent grants to local charities such as food banks and fuel poverty support, debt advice, help for people with disabilities and older people, access to digital support and community transport services, homelessness charities, mental health support and wellbeing services.
How can you make a difference?
With your donation we can ensure those who are struggling during the cost of living crisis can access the support and help that they need.
Donate online via our JustGiving Appeal Page. You can click on the link here: DonateNow
Donation by cheque: made payable to 'Northamptonshire Community Foundation' and post to #PovertyHurts Appeal, Northamptonshire Community Foundation, 18 Albion Place, Northampton, NN1 1UD.
Donation by BACS: for our bank details please contact Jenni Houghton by phone on 07483 423856 or via email: jenni@ncf.uk.com
Don't need it? Donate it! If you are able to do so please consider donating your energy rebate. If you can afford to forego this, please consider donating some or all of your payment to our appeal.
| | |
| --- | --- |
| | Gift Aid your donations: If you are a UK Tax Payer, you can increase the value of your donation by 25p of Gift Aid for every £1 you donate at no extra cost to yourself. Click here to download our Gift Aid form; alternatively please contact Jenni Houghton on 07483 423856, jenni@ncf.uk.com to receive the form. |
If you'd like to fundraise for our appeal, click here for some ideas in our fundraising toolkit
How the funding will be spent
Every penny raised from our appeal will be passed on to those in greatest need in our county. The money raised will be used to support local charities and community organisations who will help vulnerable people in supported environments and those experiencing financial hardship.